"ALL STRUNG UP" TOUR
~ CHRISTIE LENÉE, DANIEL CHAMPAGNE & HUSSY HICKS ~
October 8 – Center for Spiritual Living – Nashville, TN – http://bit.ly/2w4bZRU
October 11 – Isis Music Hall – Asheville, NC – http://bit.ly/2gKiM0g
October 12 – Red Clay Foundry – Duluth (Atlanta), GA – http://bit.ly/2hrw6qQ
October 13 – The Listening Room – Mobile, AL – http://bit.ly/2wDE2Y4
October 14 – The Shed – Birmingham, AL – https://www.facebook.com/TheShedSeries
October 15 – Hideaway Cafe – St. Petersburg, FL – http://ticketf.ly/2wu9zAo
October 19 – The Evening Muse – Charlotte, NC – http://ticketf.ly/2xr4c4x
October 20 – The Mainline at Ashland Tea and Coffee – Ashland (Richmond), VA – http://bit.ly/2hsF7Qk
October 21 – Rockwood Music Hall – New York, NY – http://bit.ly/199m6rP
October 22 – World Live Cafe – Philadelphia, PA – http://bit.ly/2jGH1Og
October 24 – Seven Steps Up – Spring Lake, MI – http://bit.ly/ASU102417
October 26 – 20 Front St., Lake Orion (Detroit), MI- http://bit.ly/2xu8BU2
October 27 – LeStats – San Diego, CA – http://bit.ly/2fhApo5
October 28 – The Acoustic Den Cafe – Roseville (Sacramento), CA – http://bit.ly/2vnJHlz
October 29 – Club Fox – Redwood City (San Francisco), CA – http://ticketf.ly/2xNafAZ
October 30 – Don Quixotes – Felton (Santa Cruz), CA – http://bit.ly/2eOb3NV
October 8 – Center for Spiritual Living – Nashville, TN – http://bit.ly/2w4bZRU
October 11 – Isis Music Hall – Asheville, NC – http://bit.ly/2gKiM0g
October 12 – Red Clay Foundry – Duluth (Atlanta), GA – http://bit.ly/2hrw6qQ
October 13 – The Listening Room – Mobile, AL – http://bit.ly/2wDE2Y4
October 14 – The Shed – Birmingham, AL – https://www.facebook.com/TheShedSeries
October 15 – Hideaway Cafe – St. Petersburg, FL – http://ticketf.ly/2wu9zAo
October 19 – The Evening Muse – Charlotte, NC – http://ticketf.ly/2xr4c4x
October 20 – The Mainline at Ashland Tea and Coffee – Ashland (Richmond), VA – http://bit.ly/2hsF7Qk
October 21 – Rockwood Music Hall – New York, NY – http://bit.ly/199m6rP
October 22 – World Live Cafe – Philadelphia, PA – http://bit.ly/2jGH1Og
October 24 – Seven Steps Up – Spring Lake, MI – http://bit.ly/ASU102417
October 26 – 20 Front St., Lake Orion (Detroit), MI- http://bit.ly/2xu8BU2
October 27 – LeStats – San Diego, CA – http://bit.ly/2fhApo5
October 28 – The Acoustic Den Cafe – Roseville (Sacramento), CA – http://bit.ly/2vnJHlz
October 29 – Club Fox – Redwood City (San Francisco), CA – http://ticketf.ly/2xNafAZ
October 30 – Don Quixotes – Felton (Santa Cruz), CA – http://bit.ly/2eOb3NV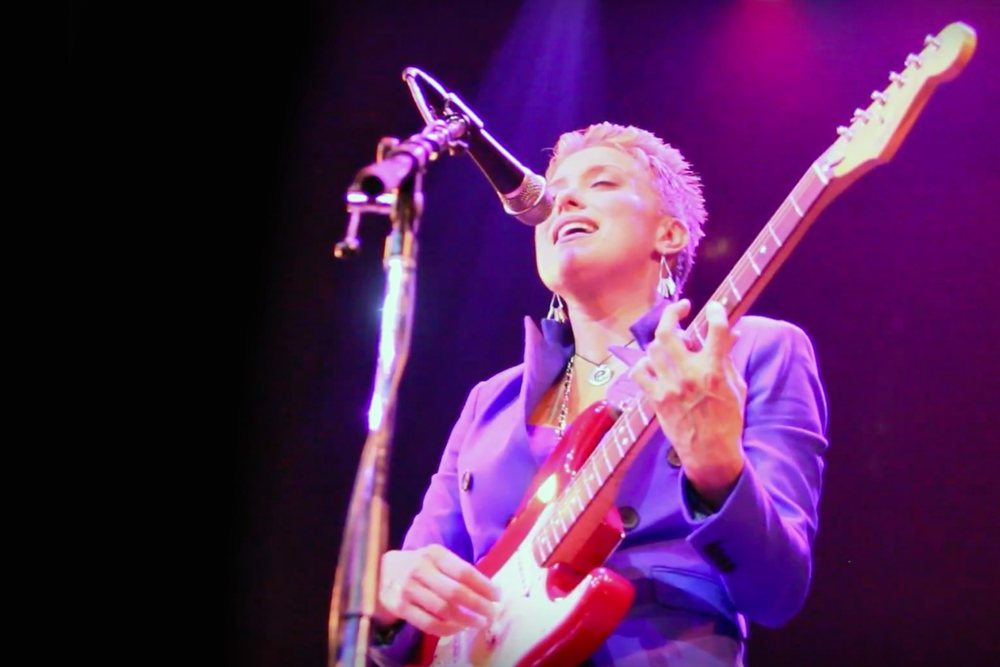 Christie Lenée's unique guitar work is often compared to visionaries like Michael Hedges, Joni Mitchell and Dave Matthews, delivering profound instrumental compositions with heartfelt, consciously uplifting songs. Christie Lenée's pieces have been showcased at the NAMM Show in Anaheim and Nashville, live on National Television and Radio, on stage with artists such as Tim Reynolds (guitarist for Dave Matthews Band), Andy McKee, Amy Ray from the Indigo Girls, and Stanley Jordan to name a few. Her album "Live at the Hideaway Cafe" was one of three finalists for "Best Album of 2014" (Indie Acoustic Project Awards), including the song "Love Who You Are" nominated for a 2016 Posi Award in the category "Songs for Personal Transformation."
The new album "STAY" is a collection of hopeful, inspiring songs featuring special guest Tim Reynolds (Guitarist from Dave Matthews Band) on the title track "Stay," "Sun Shines Through" and "Journey of My Own". The album also contains 3 instrumental pieces produced by the legendary and Multi-Grammy Award Winning Producer Will Ackerman (founder of Windham Hill Records). These glorious instrumental pieces vary, from "Soaring Over Glacier Bay" with 27 cellos and a symphonic essence, to "Sunset Rebirth" with a bamboo flute, and the simplicity of "Sweet Little Piece" on the 12 string Veillette Gryphon Guitar.
The title track "Stay" shines a bright light on suicide awareness and prevention. Christie's message is that every person is special and has something unique to contribute to this world. In her own words: "I intend to translate to the listener that it's okay to go through rough times. In those moments when you feel like running… whether from a job, a relationship, or running from life itself… Take a breath. Stay, and know that there is another way. You're the only one who can be you."
The new album "Stay" was released on October 1st and will be followed by expansive touring in the US, Australia, Asia, Canada and Europe in 2017.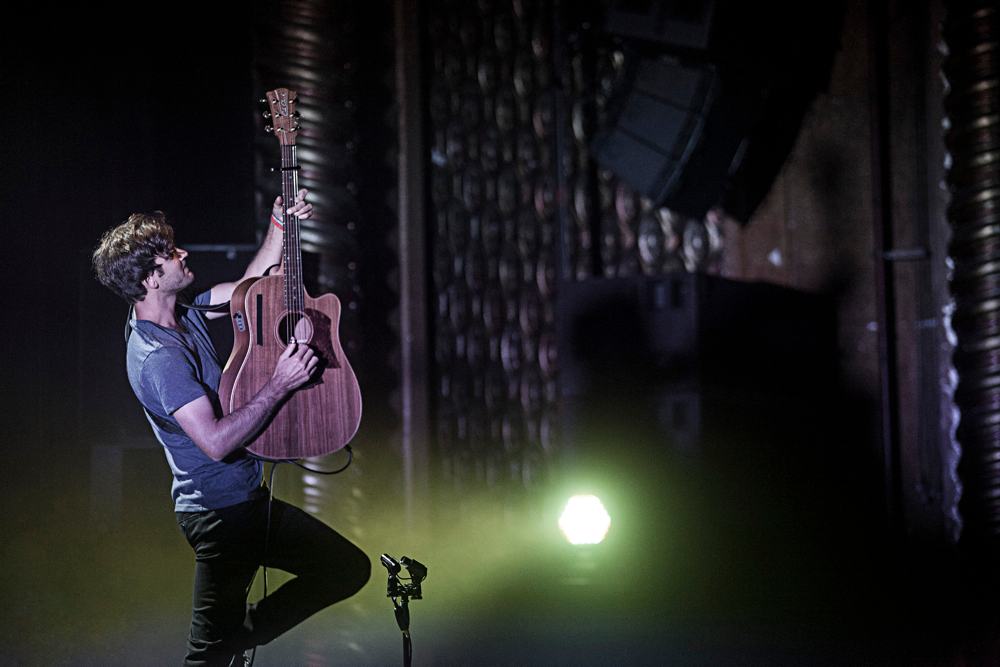 One reviewer recently wrote – 'Daniel Champagne exudes a natural ease on stage, as he sings poignant lyrics and beautifully crafted melodies that invariably whisk the heart up with grand romanticism. Coupled with an exhilarating guitar talent that transcends mere acoustic playing to replicate a whole band, Champagne is just magical.' (themusic.com.au)
The story goes that the young Australian singer, songwriter and one-of-a-kind guitar virtuoso first picked up his instrument of choice as a five-year-old following in the footsteps of a musical father. He began writing songs at 12, training classically throughout his teens and performing solo wherever he could, honing his craft and developing what would become the dynamite live show that he is renowned for today.
At 18 he left school, turned professional and hit the road. The next five years saw him traversing North America, the United Kingdom, Europe, New Zealand and of course, his homeland Australia playing such festivals as Vancouver and Mariposa Folk (Canada), Belgium's Labadoux Festival and Australia's Woodford, Falls Festival, Port Fairy Folk Festival and the legendary Byron Bay Bluesfest. As well as touring and sharing stages with the likes of Lucinda Williams, Judy Collins, INXS, John Butler, KT Tunstall and Ani DiFranco, Jake Shimabukuro, Rodrigo Y Gabriela – all of this while writing, producing and independently releasing two Eps, Gypsy Moon Volumes 1 and 2, his first long player 'Pint of Mystery' (2011) 'My Own Design' (2009) and 'Wide Eyed and Open' (2010), and the 'Real Live' offering in 2012. His latest release "The Heartland Hurricanes" is available now.
As one reviewer recently wrote, "still in his early twenties, the distances he has been would be more frequently associated with veterans of the Folk scene" (The Dwarf).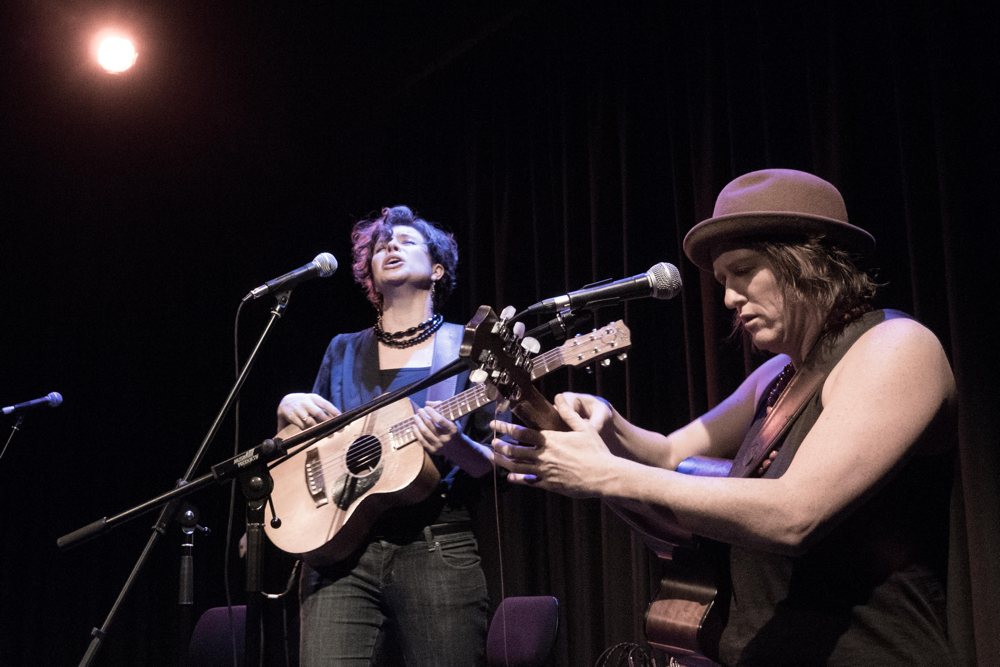 GCMA Artist of the Year Winners Hussy Hicks have a unique musical approach that spans many genres – from boisterous blues and roots, to contemporary folk fortified with delicious vocal harmonies; alt country inspired tales from the road to 80's style power ballads. The girls, Julz Parker and Leesa Gentz are highly regarded for their musicality by their fellow musicians and punters alike, you can expect lots of interactive jamming, killer guitar licks and soaring vocals, an approach that has seen them on stage in Jams with everyone from Michael Franti and Edward Sharp (Alex Ebert) to John Butler and the Indigo Girls.

2016 was a big year for the girls gaining  a coveted spot at the Byron Bluesfest,  completing 2 successful European tours ( over 60 dates) and releasing a single that maintained a spot in the Amrap top 5 for weeks.
"A not to be missed act that are ready for the world"  – Peter Noble, Bluesfest Director
"Hussy Hicks Rock" – Michael Franti
"Hussy Hicks has a sound all of its own… endlessly interesting and optimistic yet heartbreakingly honest and raw… and the music has a real capacity to connect with something universal in each of us." – Susan Jarvis, Capital News
 "…what real world music is all about: sweat, beat, tapping feet, feel, passion…" – Andrea Ballarin, Manne Italy
"Watching Julz Parker play her custom-made acoustic dreadnought is nothing 
short
 of breath-taking; a stark reminder of the huge gap between simply 'playing guitar' and the ability to make an instrument the extension of your musical imagination." – Sabian Wilde, X Press Magazine
 "a swirling blend of dreamy country twang and soulful blues influences" – Scott Templeton, Esperanto
 "You won't find a finer female lead guitarist than Julz Parker, who switched from acoustic to electric with ease. As for the voice of Leesa Gentz, it soars and screams yet can be as gentle as a feather tickling your back." – Derrick Cromb, Blues Radio
"probably the best band you've never heard of" – Planet London